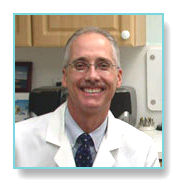 I graduated from the University of Florida in 1979 with a BS in Microbiology, and received my DMD from the University of Florida College of Dentistry in 1983. I have been married to my lovely wife, Ann, since 1984 and we have two children, Elizabeth and TJ. I enjoy golf, tennis, and working out to stay fit.
I come from a medical background. I grew up watching my dad practice medicine in an era without managed care. One of my most striking observations of him was that he had real relationships with his patients. He exemplified the virtues of caring for people and giving your best, and that led me to develop a practice philosophy very different from today's norm.
In my dental practice, the patient always comes first. I work my hardest to stay on schedule because I respect your personal time. I am a believer in education — my own and yours — so I stay current on the most up-to-date treatment modalities to help patients make fully informed decisions regarding their dental treatment options. I also believe in being accessible to my patients, so I provide my cell-phone number for after-hour emergencies.
Because of my background and practice philosophy, I personally perform your initial comprehensive examination, spending a full hour with you rather than just visiting for a few minutes at the end of your appointment. In that hour, you'll receive probably the most thorough, comprehensive dental exam you've ever had, including the following:
A head, neck, and intra-oral cancer screening (which we also perform at each cleaning recall visit every six months)
An evaluation of the bite and how the teeth fit and work together
A discussion about the need for night guards or other teeth protection devices
A full periodontal examination and diagnosis
A determination of which type of dental cleaning is needed in your case
An evaluation of all existing dental restorations, ie: fillings, crowns, bridges, and/or dentures
An evaluation for the different types of cavities utilizing visual examination, radiographs, bright light transillumination, and Diagnodent laser evaluation
A smile analysis and discussion to determine any cosmetic needs or desires
An evaluation for the need of crowns, porcelain inlays, or onlays with our new CEREC technology
An evaluation for needed implants or bone grafting procedures
After that initial examination, I study the data gathered and develop a comprehensive, personalized treatment plan outlining the treatment needed. Then we schedule a short, complementary visit to review your treatment plan, answer questions, and go over the financial information for your treatment. I believe in being very up-front about all aspects of the dental treatment recommended and the fees involved so there are no misunderstandings. We then discuss which appointment times are convenient for you and proceed accordingly.
I love what I do and I'm proud of my work, my staff, and my practice. I look forward to establishing a relationship with you and taking care of your dental needs.
Douglas A. Deam, D.M.D.