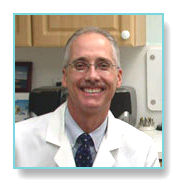 I graduated from the University of Florida in 1979 with a BS in Microbiology, and received my DMD from the University of Florida College of Dentistry in 1983. I have been married to my lovely wife, Ann, since 1984, and we have two children, Elizabeth and TJ. I enjoy golf, tennis, and working out to stay fit.
I come from a medical background. I grew up watching my dad practice medicine in an era without managed care. One of my most striking observations of him was that he had real relationships with his patients. He exemplified the virtues of caring for people and giving your best, and that led me to develop a practice philosophy very different from today's norm.
In my dental practice, the patient always comes first. I work my hardest to stay on schedule because I respect your personal time. I am a believer in education – my own and yours – so I stay current on the most up-to-date treatment modalities to help patients make fully informed decisions regarding their dental treatment options. I also believe in being accessible to my patients, so I provide my cell-phone number for after-hour emergencies.
I love what I do and I'm proud of my work, my staff, and my practice. I look forward to establishing a relationship with you and taking care of your dental needs.